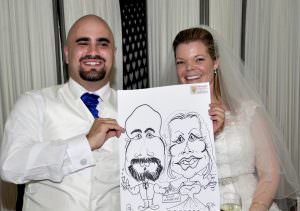 Amuse your party guests with this unusual and fun entertainment! Using banded A3 black and grey marker pen, drawings take around just 5 minutes each!
Mix & mingle-  a very popular form of Caricature Entertainment i.e.: The Artist walks around, asking guests if they would like a picture drawn.
Seated performance-  The Artist can be seated with an easel or with just 2 chairs supplied by the venue, in a well lit area.